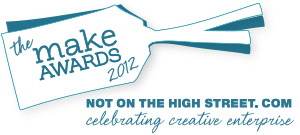 The champagne corks have been popped and the cupcakes have been devoured. Everyone caught their last carriage home. And now the results for the notonthehighstreet.com Make Awards 2012 are in.
This year's entries have been absolutely exceptional – both in number and quality. We're overwhelmingly proud to have received so many entries from so many talented businesses. It demonstrates that originality and pure entrepreneurial spark are not only alive and well but positively thriving in the UK – something that makes us very happy.
We'd like to take this opportunity to offer two enormous thank yous: one to anyone – customer or seller – who took the time to vote. Another huge wave of gratitude goes out to our panel of expert judges; bestselling author Sophie Kinsella, founders of everywoman Maxine Benson and Karen Gill, Homes Editor for Grazia magazine Rachel Loos, and former Dragon and founder of School for Startups Doug Richard. Their insight, expertise and experience helped us enormously and they were overwhelmed by the high standard of entries across all of the categories.
Here is the full list of the winners by award and the shortlisted sellers within
each category.