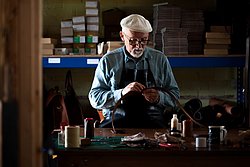 This is me John Hagger, leather craftsman. Together with my apprentice Will and a small team of part time workers I design and make the Tanner Bates range of hand made leather goods at our workshop in rural south Devon. We are a small business and depend on good relations with our suppliers and customers.
We are known for our work with Oak Bark Tanned Leather which we source from our local tannery in East Devon. The tannery uses oak bark from the Lake District to produce a full grain leather with a unique patina and feel. Most of our products have an Oak Bark Tanned leather option. We cut everything from the hide by hand and carefully make each product using traditional leatherwork hand tools, some are hand stitched.
Tanner Bates combine traditional techniques with modern design. Desirable products, handmade to last.