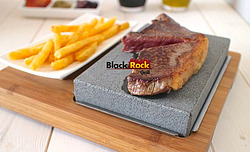 Black Rock Grill is the industry's market leader, and provides the complete cooking on stone solution for the domestic market.
We set about developing our interactive dining concept in February 2004 having recognised that many foodies are always looking for a unqiue and exciting way of dining with friends and family. We are now celebrating our 10 year anniversary!!
We've taken the 'live cooking station' a step further, by creating a dining concept that allows people to cook their meal just the way they like it at the table, indoors or out.
The Black Rock Grill concept has proven to be extremely versatile. It is widely used throughout the United Kingdom and we also export worldwide.
We have a wide range of products to view.