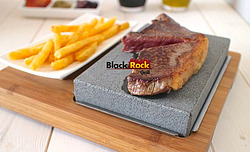 Delivering a WOW Factor & Exciting Tabletop Dining Experience to Steak Lovers Around the World.
Our Family business was formed in 2005 in Basingstoke, Hampshire, Great Britain. We have been serving both the Professional Food Service Operator and Home Domestic user for over 10 years.
Debbie and I have been in the catering industry all our working lives, we have worked all over the world in hotels, restaurants and bars.
We understand the challenge, frustration and joys of keeping dining fresh & interesting. We recognise every home is looking for an exciting dining experience that delivers value a fun experience and the incredible flavour that only Black Rock Grill can deliver.
Our daughters Louise & Emily make up part of the great team of people we are fortunate to work with.
If you are planning to introduce Steak Stones or Stone Grill to your friends and family, we would welcome the opportunity to partnering with you for all your Black Rock Grill needs.
Peter and Debbie Hatter