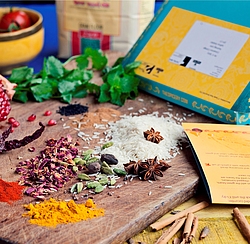 In a market in Marrakesh, surrounded by the colour and fragrance of spices, James Ransome had his 'lightbulb moment' - and in 2005 the Spicery was born. Starting off at farmers markets, he sold spices measured out to make recipe kits for food from round the world.
Now, these delicious boxes are sent all over the world, introducing people to new ingredients and recipes every month.
Cooking with spices really thrills the senses but they can sometimes feel complex and intimidating, so we try to make using them really easy, fun and convenient. Our monthly subscriptions contain all the fresh spices you need, measured out to make fantastic recipes and delivered through the letterbox every month.
We develop and test all the recipes here in a big kitchen at the Spicery HQ, in Bristol, where we eat curry for lunch almost every day. Then we grind and blend the spices in small batches just before sending them, so you always get to enjoy them at their best.
Happy spicing!
James Ransome and the Spicery team
---
The Independent 10 Best Recipe Boxes 2015
Observer Food Monthly Awards 2015 - Best Independent Retailer runner up
Notonthehighstreet.com Make Awards 2015 - Gift of the Year runner up