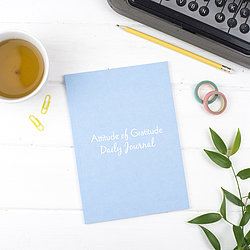 I'm Gabrielle, I live with my husband and little dog in the Brecon Beacons. I illustrate, design and create gorgeous and green gifts and stationery that help you get organised, connect with others in a real and tangible way, and spread a little joy in the world.
the green gables helps you to spend time with your loved ones, to share joy in the world, to dream and plan, to connect with your friends and family in a meaningful, heartfelt way. Do something unexpectedly lovely for a friend, send a note by snail mail or cross off your to do list with pen on paper, it'll feel good, I promise! The joy your loved one will feel from opening a hand scribbled note sent by you is immeasurable, it means so much more than a hastily written email.
the green gables products are printed on recycled paper in the UK, and packaged in recyclable, compostable or reusable packaging. The majority of the suppliers I work with are independent British businesses.
Giving back
Being a positive force in the world and contributing to society is important to me and I want my business to give back where possible. the green gables supports six charities by donating a percentage of profits. So, you can rest assured that while you're enjoying your carefully chosen items there are others benefiting from your purchase too.
The charities the green gables donates to are Woodland Trust, The Brain Tumour Charity, NSPCC, age UK, WaterAid and Fresh Start Foundation.
I hope you enjoy browsing my selection of gorgeous and green gifts and stationery, each item will reach you in pristine condition with a little note from me too.