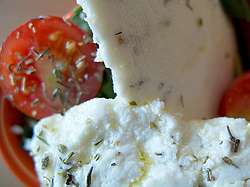 The Big Cheese Making Kit came about through a love of cheese and the curiosity to find out if I could make it myself. This curiosity was triggered by a celebrity chef making yogurt (I won't name names but he lives in a cottage by the river!). I thought it looked really easy, and if you can make yogurt maybe you can make cheese too?
The Big Cheese make a range of cheese making kits; The Ultimate Cheese Making Kit, The Mediterranean Cheese Making Kit, Halloumi, Mozzarella and Ricotta, Goat's Cheese and a Kit for children. All the kits come with everything you need to make delicious cheese in your own kitchen with no fancy equipment (just milk, a pan, colander and spoon!). You'll be surprised by how quick it is (most recipes take around an hour) and how simple it is to do.
All our cheeses are 100% vegetarian and gluten free. They're also free from any artificial ingredients so you know exactly what you are eating. You can customise your cheese with your own additional ingredients such as herbs, spices, olives, and sun dried tomatoes, the list is endless.
The Big Cheese Making Kit is an ideal gift for a foodie or a great way to impress your friends and family with your own homemade cheese!