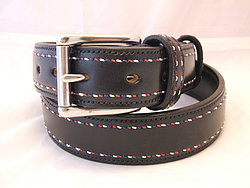 TBM - The Belt Makers - have been producing high end, traditionally handmade English leather belts for a number of years. Their work can be found in the most prestigious areas of London and across the globe.
These exquisitely and genuinely handmade English leather belts are perfect for spoiling that special person in your life, or simply to treat yourself.
Choosing to make every belt individually and entirely by hand, The Belt Makers go out of their way to avoid the use of die cutting machines, sewing machines or any other kind of electrical gadgetry in any step of their belt making process. Instead, and proudly continuing the family tradition of using traditional handtools and skills of the English Saddlery Trade, each unique TBM belt is hand cut, traditionally handstitched with needles and thread at eight stitches per inch and beautifully finished by hand, in the Devon workshops of National Award winning craftsmen.
In these stunning belts, TBM use only the best leather available: 'Sedgwick's First Selection: English Bridle Butt'. Obtained from the supplier with the Royal Warrant and used in the best horse harness, this leather is world renowned for its strength, durability, density and superb lustre. Over time, its luxurious suppleness will enable it to naturally and beautifully mold to the shape of the wearer. A TBM belt will look after the owner as well as the owner might look after it and will become a firm favourite for years to come.
All belts are available in a range of colours and earth tones, gift boxed and with your personalised message.