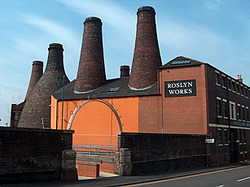 Sculpta Ceramics have a history of ceramic product design & development. They began manufacturing in 2006 at the Roslyn Works, a Grade Two listed former Victorian Pottery which is now a business centre. It still has the original bottle ovens intact although they are no longer used for firing.
The company was formed by Ceramic Designer Nathan Smallman BA(Hons) who has worked for many years in the ceramic Industry as a modeller for bathroom product manufacturers in the UK and overseas.
Nathan began designing and making his own products after he went freelance upon being made redundant. Undeterred by the hard times experienced in Stoke-on-Trent over the last 20 years, Nathan set out to show that the traditional skills and vast knowledge of the Stoke Potters still had value. This theory is now coming to fruition with the increase in small business start ups by former industrial artists and potters.
Nathan's range of shaving accessories includes an innovative Shaving Scuttle design which keeps the lather warm and results in a closer more luxurious shave, his latest products include a Personalised hand made Espresso Cup and Saucer and a Personalised Moustache Guard Mug.