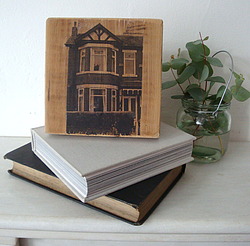 Welcome to Northern Logic - where great ideas grow on trees.
All of Northern Logic's products are designed and made by me - Jude Macpherson - I'm a Manchester based artist with a background in painting and printmaking.
My signature products are personalised maps printed on wood. The map data I use is sourced from, and licensed by Ordnance Survey. Using the beautiful OS map data I create genuinely unique, bespoke, artworks that commemorate a special place and time for my customers.
Alongside my map prints I offer one of a kind art pieces for the home. Contemporary in style, with a rustic twist, each order is handmade using materials and wood from sustainable sources. My range of thoughtful and unusual prints is constantly evolving as I have new ideas and add new products to my shop.
If you have any questions about my products please click on the 'Ask Seller A Question' button and I will respond via email as soon as I see your message. To ensure my response reaches your email inbox please add donotreply@notonthehighstreet.com to your email address book or remember to check your email spam folder.