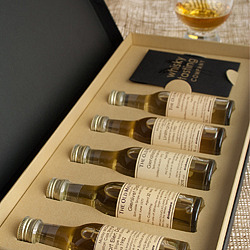 The Whisky Tasting Company are delighted to offer you our beautiful whisky gift sets.
We have a wide range of premium products that offer a choice of tasting experience for special occasions, from classic single malts to old and rare Scotch whisky. All are presented in hand-finished gift boxes.
Each set contains five whiskies, accompanied with detailed information and tasting notes and a whisky tasting mat to provide everything needed for a whisky tasting at home.
We are a small business with our own bottling facility in Scotland, and are an HMRC verified Scotch whisky bottler, which assures you of the highest standards of product.
We have received the 'Small Business Sunday' award from Dragon's Den star Theo Paphitis, plus 'Star Idea' from Lord Digby Jones who served as Director General of the CBI and Minister of State for Trade and Investment.