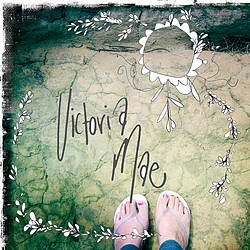 Victoria Mae is a Belfast-based surface designer specialising in printed pattern and illustration. Her creative designwork has made its way onto a wide range of surfaces, from textiles to tableware to teabags, and you can now buy some of her unique designs right here, on her Etsy shop - choose from her quirky range of tea gifts, her customised and personalised wedding favours, or her beautiful range of ceramics.
Out of Victoria Mae's passion for unique, original designs (and tea!) has come a range of ceramic tableware, wedding favours and tea-themed gifts, designed to put a smile on anyone's face, whether you're treating yourself, honouring your guests or looking for a gift for a special friend. What better way to let someone know how much they mean to you than by giving them a very special little teacup or a very special cup of tea?!
Victoria Mae's range began with just a few creatively designed, lovingly crafted ceramics, before quickly expanding to include personalised wedding favour teabags...and now features a complete range of tea gifts, with something for every occasion. There are thoughtfully designed sets to celebrate weddings, a new baby, a new home or just to say thank you. There are gift sets for Valentine's Day, for Mother's Day and Father's day; tea gifts for teachers, and tea gifts for Christmas...as well as the ever-popular, always delicious tea Advent set, which makes a lovely alternative to the usual chocolate advents calendars. Alternatively, Victoria Mae's quirky literary-themed sets are perfect for book lovers, whether they favour Sherlock Holmes, Jane Austen or Alice in Wonderland.
If your special day is fast approaching, and you're looking for something a little bit unusual and a bit fun, Victoria Mae's wedding favours could be just the thing...the designs can be customised to match your theme, with the colours and the style tailored to reflect your personal tastes. They can also be customised for other special occasions, such as birthdays, baby showers and bridal showers.
To complement her wedding favours and tea gifts, Victoria Mae offers a range of lovely bone china ceramics, which can either be used on an everyday basis or displayed as little individual art pieces. The ceramics are kiln-fired and are made to last; they are also dishwasher and microwave safe. Each ceramic piece is uniquely made and no two are identical, offering a truly unique yet very affordable gift for family and friends.
Since launching her range in 2012, Victoria Mae's award-winning designs have been featured in a number of high profile publications, including Elle, Country Homes and Interiors, Ideal Home magazine, Design Week, The Lady and Country Living, and were also featured on TV as part of ITV's 60 Minute Makeover. Her products are all made in Britain, and her teabags are both Fairtrade and certified organic.
The tea gift sets come in a range of flavours, including English Breakfast, Earl Grey, Darjeeling, Camomile, Rooibos, Indian Spice Chai, Mint (spearmint), Jasmine Green Tea and Honeybush.