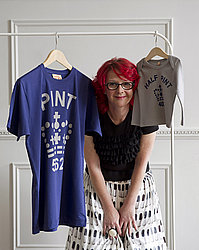 For the last ten years at Twisted Twee Georg and I have filled notebooks with pictures of daft and ingenious objects. For the next ten years we plan to make them all.
Among our many creations are Lovers' Gloves which two people can wear together, twinsets for Dads and their babies, knitted Ear-gloves, unique children's clothing which is cheerfully sardonic and eccentric stuff for adults.
Everything we make is original. affordable, durable and beauteous.
Some things we make ourselves, others are knitted by Mongolian shepherdesses, hand-printed in Bath or forged by Elves in the mines of Lothren. We even have a Chinese Grandmother making four foot long Twisted mannequin rag dolls from lilac Tweed!
Please come and have a browse around. It's nothing like a mall.
We have now moved all our homeware items to Twisted Twee Homewares www.notonthehighstreet.com/twistedtweehomewares