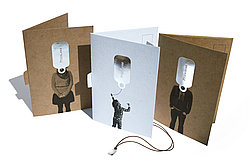 Sarah's design philosophy is simple, and apparent…her ability to capture style. Make an elegant statement with an engagement or wedding ring, or capture a design classic with attitude.
This is intelligent jewellery. Aspire to own a Sarah Sheridan piece of jewellery...
Love and Patience is a new design collective that Sarah is heading up. The first product to be launched under the Love and Patience brand is 'You're Priceless', a unique gift concept and design that say's it all….'You're Priceless'.
GMTV's shopping presenter Mark Heyes 'It's the coolest product I've seen all year'
Worn by 'Take That', Emma B, Jamie and Jools Oliver to name but a few Priceless celebrities.
Sarah's designs have been featured in many national magazines GQ, Arena, New woman, Marie Claire, Red.