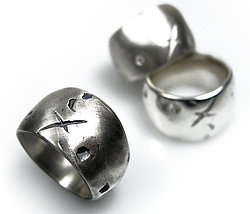 Sarah Sheridan founded Sheridan Designs in 1995, based in Brighton on the south coast she has been making jewellery for men and women all over the world who are looking for something that little bit different.
Sarah's design philosophy is simple, and apparent…her ability to capture style. Whether it's her androgynous weighty rings with a feel of being exhumed from the earth or the 'original' simple silver "Priceless" tag which shares a beautiful message to the one you love, all wrapped up in its own packaging. When you buy a piece of Sarah Sheridan jewellery you'll be buying into her unique quality of design.
Sarah has always tried to be a forward thinker in her field and continues to develop new ideas using different mediums, calling on her many skills from her Brighton studio.
All her jewellery is handmade and is beautifully packaged in a gift box for you to give to that special someone. She can also hand write your personal message in the 'Priceless Keepsake card' that's required to be sent directly to the recipient.
What other people think….
GMTV's shopping presenter Mark Heyes 'It's the coolest product I've seen all year'. Worn by Emily Blunt, Take That, Emma B, Jamie and Jools Oliver to name but a few Priceless celebrities. Sarah's designs have been featured in many national magazines over the years - The Face, GQ, Arena, New Woman, Marie Claire, Red.
OUR PRICELESS STORY...
It was an ordinary Autumnal day when the idea came to me but for this to happen a lot of love was lost and a lot of love was found. The story of "You're Priceless' is a very personal one, one that started with the very early arrival of my son, born at 25wks weighing no more than 1lb 10oz.
In the months before his arrival I was embarking on opening my fabulous new jewellery store in the heart of Brighton working with the creative genius of a talented London designer, but then that journey was brought to an abrupt halt with the 4 months spent travelling in and out of hospital caring for my tiny son.
He was my first child and nothing prepares you for what you are emotionally dragged through with a child in intensive care. One is forced to stop and re-evaluate their life when big events like this happen. It shakes you to the core. What you once held high in great importance, were passionate about orconcerned with paled into insignificance, my priorities had changed like a flick of a switch. It was just about surviving each day and the survival of my jewellery business just wasn't important to me anymore…I needed to let it go.
The next couple of years were all about nurturing my son to grow and helping myself to heal.
It tests a marriage to the brink and it'll either bring you closer, which it did initially, but after my son turned three I discovered that my marriage wasn't as strong as I'd always imagined it to be, my husband had been having a long affair. They say a life trauma can either bring you together or push you apart. Ours took the latter path and couldn't be salvaged.
Just when I thought no one was there to catch me falling a hand held me tight and wrapped me in unconditional love and patience. Unbeknown to me on the first day we'd met all those years ago he'd fallen in love with me over a coffee discussing our vision for the new shop. In all that time through our friendship he never said a word, never presumed…just waited and wondered.
A bunch of flowers arrived and with it a note:
"You're incomparable, you're irresistible, you're irreplaceable…shine on flower x"
Everything in life happens for a reason, I found my reason…he's priceless to me. That ordinary day was the day my life changed. The rest is in its future and is all wrapped up in the creation of 'You're Priceless'.