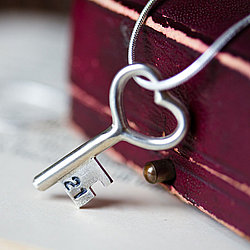 I have over fifteen years of experience making and selling jewellery. I pride myself on the originality of design and quality of craftsmanship. I love making jewellery and think this is reflected in my work.
This latest collection celebrates two of the things most important to me: jewellery and family. I wear my silver keys with the names of my children and my wedding anniversary on every day. I aim to provide a stunning individual piece of jewellery for those with a taste for something unique and special.
I am pleased and excited to introduce my latest collection of jewellery entitled 'Nearest and Dearest.' Each piece of jewellery is beautifully handcrafted in sterling silver and personalised with a name, word or date specific to each individual piece or person.
The collection has taken inspiration from my love of keys and locks, that each key is unique and used to protect those things that are dear to us. Each key or charm can be used to commemorate a loved one's name or special date, and more keys can be added to build up a collection or 'bunch' that are entirely individual to each owner.