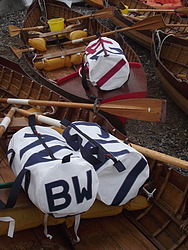 Welcome to Paul Newell Sails! We are sail makers, working ot of our sail loft beside the sea, in Bembridge, on the Isle of Wight, making both sails and unique sailcloth products. When making our bags, wherever possible we recycle sailcloth but, when it is unavailable, we use new sailcloth of the highest quality. We design and sew all of our products and we offer our clients the opportunity to personalise many of the robust sailing bags and accessories.
Our imaginative and colourful designs are hand decorated and inspired by our nautical heritage and seaside life. Using exactly the same skills and techniques we use to make our sails, each product is individual and made to last.
Paul has had over 40 years experience sailmaking on the island. An accomplished sailor, who sailed as Robin Knox-Johnson's sail-maker in the second Whitbread Round-the-World yacht race. He continues to sail and race today with his family. He works with his wife, Vanessa, a designer, who has an MA in Industrial Ceramic Design and has worked for Wedgwood and Queensberry Hunt Design in London.
We are responsible for all the designs and they are made by experienced sail makers who have many years experience. Our products are built to last, and we want you to have many years of service from them.