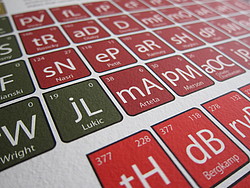 I love sport, films, numbers and good design. This is my attempt to consolidate these interests. I research, catagorise and design each print.
Each image is finished as a beautiful Gilcee print on heavy weight Hahnemühle fine art paper. Most of the prints can be personalised to the buyer's wishes.
Since launching 'On a Sixpence' , I have been pleased to receive a large number of wonderful comments and kind words from my lovely customers. My products have also received some very nice reviews. These have included features in Sport Magazine ("An explosive chemistry...engrossing art"), the Cyclingshorts website, Shortlist Magazine ("...we applaud the work...eyecatching prints that work aesthetically and literally."), FHM ( "...one of a hub of brilliant football artists") and the BeautifulGear website.
My work has featured in the Guardian newspaper as part of their 'Show & Tell' series and the BBC reporter Karthi Gnanasegaram stated my work was 'Brilliantly creative!' Ex-England footballer Graeme Le Saux said the prints are " A wonderful gift'. Xan Brooks, the film critic, stated the prints were "Delightfully mad and madly delightful." The brilliant Hollywood film director of Moon and Sourcecode, Duncan Jones, noted "What a cool idea."
My prints were extensively featured in the Guardian's 'Beautiful Games' series looking at artists and sports. I have also been interviewed by the BBC World Service.
I am always looking for new ideas and projects. If you have any ideas or questions, please do not hesistate to contact me.