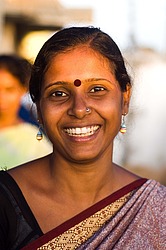 We are an award-winning, future friendly, ethical accessories company producing lovingly handmade, premium quality bags and accessories in Calcutta, West Bengal, a city where poverty is rife.
We combine the best of British design talent with age-old Indian craftsmanship to bring you beautiful leather, silk and canvas products that provide healthy wages, stability and a happy working environment to extremely deprived communities.
We are incredibly proud of our non profit manufacturer and the small artisan co-operatives they partner; accredited by the World Fair Trade Organisation, their talent, warmth and positivity truly inspires us. By buying our products you are contributing to the many positive initiatives they operate including, pensions for all, career development & training and flexible work for women in difficult circumstances.
Our products speak for themselves. Unique in design and crucially, in the story behind them; we don't ask that you compromise your social, or style standards. We quite simply bring you a guilt free alternative to the things you love and a brighter, more secure future to those who deserve it the most.
NV London Calcutta is proud winner of Notonthehighstreet.com's Make Award for Community Contribution & The Ethical Fashion Forum's Supplier Innovation Award