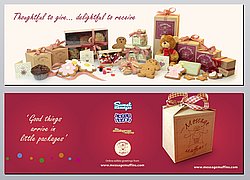 Welcome to Message Muffins... We offer the perfect gift when you are looking for something unusual, Something a little different when you want to say...
Thank you... I Love you... Happy Birthday...Congratulations...Well Done! ...Valentines Day...Merry Christmas
Our lovely, fun new way to send your personalised greetings with a scrumptious selection of muffins, cookies and sweets in a variety of delicious flavours for you to choose- offered singly, in a pair, or boxes of four, six and twelve - all gorgeously and carefully hand packed in Dorset. Every delightful delicious gift idea contains a special card with your own personal message hand written just for you!
Happy Shopping
Maria @ Message Muffins