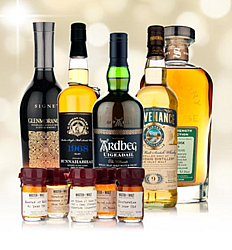 Personalised Single Malt Whisky from Master of Malt.
Complete control over the design of your label, perfect for individual & corporate gifts. We can present your malt in a beautiful wooden presentation box and gift wrap it with a hand written card. We can personalise any malt from the exclusive Master of Malt range, comprising some of the finest Single Malt Scotch Whiskies available.
Each Whisky has been specially selected for its depth and character, making each malt a real treat for any serious scotch lover. We also carry over one thousand malts from across Scotland so we are sure to have a bottle to suit every palate, and budget!
Our tasting sets provide the best way to sample whole ranges of whisky, brandy, bourbon, cognac and more. A fantastic gift choice for both conoisseurs and beginners!