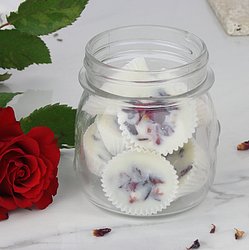 Passionate about nature and inspired by a love of growing flowers and herbs from an early age, my beauty range has been created by harnessing organic, natural, ingredients and using traditional methods.
At Marigold Charms we believe that pure and natural are what's best for your skin. Sustainability is core to our beliefs; each oil, extract, butter, mineral, seed and plant is carefully sourced and some we grow ourselves in our own cottage garden. Our formulations are cruelty free and made in small batches to ensure the highest level of freshness and quality.
Above all we want to make our customers feel and smell wonderful.
Our new collection includes bath melts, body scrubs, bath salts and bath bombs that, like all our products, are vegan friendly and handmade in the UK.
A new range for men includes beard oils hand blended from carefully sourced ingredients, using traditional methods to maintain and preserve the vital elements that make them work so well.