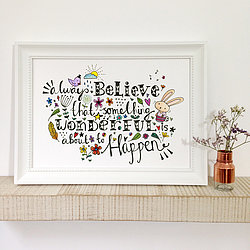 Hello my name's Spangle (I'm the little rabbit on the left) and that's my Mummy holding my hand. Her name's Emma Talbot & she rescued me from an animal shelter. She loves my name (I'm not convinced- I'm a boy & I think my previous owner may have thought otherwise) but I digress, here's a little bit about her.
Emma's passion in life is art & design. As a wee thing, she simply couldn't stop drawing. She would study beautiful illustrations that she found in books, newspapers & magazines & try to re-create them in order to learn. At the age of 6 after winning an art competition at school (for the best work book cover) she decided that when she grew up, she would become a professional drawer...type...person. Her wish came true & Emma's been working as a professional illustrator for 15 years. Her work has been seen in many places including John Lewis, Liberty & Jo Jo Maman Bebe. She is still always drawing (on any surface available I may add), snapping photos for inspiration and getting her hands covered in paint- sometimes I join in too but then I need a bath- I don't like baths.........
As you've probably guessed, she adores rabbits so there will be quite a few bunnies popping up in her work- some inspired by moi of course! Her art prints and greetings cards are all individually printed and handmade by her using beautiful, environmentally friendly papers.
Emma says if you buy a piece of her art you won't just be buying a thing, you'll be buying a piece of her heart & soul which she poors into all of her work.
She hopes you like her designs as much as she enjoyed creating them and thanks so much for visiting our little shop.