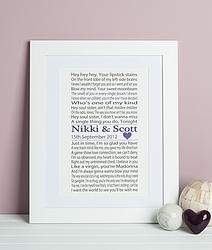 Lisa Marie Designs is a British design company, situated in the heart of Surrey, creating personalised contemporary art & greetings cards.
We are a small team of designers and in-house illustrators, all with a shared passion for vibrant, meaningful art, featuring modern typography and illustration.
Our designs are a combination of great ideas, digital designing, and high quality printing, resulting in the perfect product for you and your home.
One thing you will notice is that we love colour! So all of our cards are bold, bright and have a big impact.
We are dedicated to providing a very personal service, and we will work with you to create a design that is unique, and fits your occasion perfectly.
The ethos behind our work is 'Art with Meaning', and we endeavour to create a piece of keepsake personalised art for every occasion.