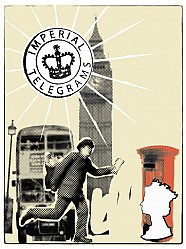 This Durham-based company make bespoke, hand crafted, facsimiles; designed to celebrate classic British telegrams.
Each one is lovingly made and perfect for every special occasion.
Your message is printed carefully onto individual paper strips. Authentic, pre-decimal, vintage stamps are added, which are then franked and hand-stamped, along with a date of your choice.
To personalise these further, the senders name, recipients name and the preferred route for the destination is added.
For an extra special touch, dried viola's can be added to your order.
Customer comments -
My husband LOVED the telegram; it was so beautifully put together and presented. I was so pleased to find such a creative gift idea on NOTHS.com.
Have used Imperial Telegrams on a few different occasions now and will continue to do so!! Have been delighted by their fast service, good quality and excellent idea. Everyone that I have sent one to has been absolutely thrilled when they've received it through the post. Thanks again!!
Superb quality and delivery, attention to detail is really impressive even down to a hand written brown envelope. Will definately use again.