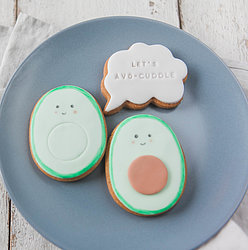 Honeywell Bakes was created over the kitchen table by sisters Rebecca and Rosie. Our baking skills came from our Mum, who always had a fresh cake coming out of the Aga when we were children.

We offer beautiful baked gifts by post, such as pretty biscuit sets to celebrate a birthday, baby or new home, as well as seasonal collections such as gingerbread Christmas wreaths. Our emphasis is on style as well as taste - everything looks almost too good to eat!

We aim to be ethical, using local and/or fair trade suppliers whenever possible, and have a strict recycling policy as well as using recycled materials in our packaging. Each biscuit is made using traditional methods by hand, before being individually iced and decorated.

All of our hand baked biscuits are designed to cheer and bring a smile, whether you are treating yourself or a friend.

Both of us have been baking for family and friends since we were 8 years old!