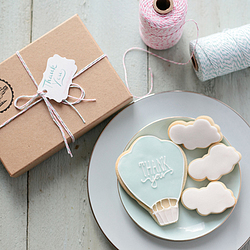 Honeywell Bakes is a boutique baking company run by sisters Rebecca and Rosie in Northamptonshire.
We offer beautiful baked gifts by post, such as pretty biscuit sets to celebrate a birthday, baby or new home, as well as seasonal collections such as gingerbread Christmas wreaths. Our emphasis is on style as well as taste - everything looks almost too good to eat!
We aim to be ethical, using local and/or fair trade suppliers whenever possible, and have a strict recycling policy as well as using recycled materials in our packaging.
All of our home baked biscuits are designed to cheer and bring a smile, whether you are treating yourself or a friend.