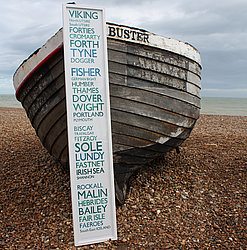 Flowers and Fleurons is the home of the original Shipping Forecast letterpress print. The original was printed entirely from vintage wooden type and stood 2.2 metres tall. It represents one man's passion for vintage type and lettering.
John Christopher's Victorian terraced house in Brighton is crammed with vintage letterpress equipment. His collection includes a half-a-ton cast-iron Edwardian printing press dating back to 1906 which sits quite discreetly in the living room together with trays of wood and metal type, some of which date back to 1870.
Why has he gone to such extraordinary lengths? John says 'As an alternative to identical digital prints I prefer to use vintage letterpress machinery to produce real prints one-at-a-time by hand. Tiny imperfections inherent in each vintage type block combine with the hand printing process to ensures each print is unique.
My customers appreciate this – they are buying their very own unique piece of art rather than an identical digital copy; they love the fact each print shows the touch of the artist's hand.'
Recently John has reprinted the extra large Shipping Forecast for Rick and Jill Stein's Seafood Restaurant in Padstow and has begun selling his smaller prints at the National Maritime Museum.