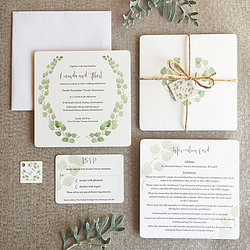 A beautifully designed invitation offers such elegance to an occasion. Weaving that design through the whole marriage experience really helps to make the whole event truly memorable. Whether you'd like to select one of the designs that I've already worked on, customise one of these designs, or create something completely new, I can help you to realise the wedding of your dreams.
I love to work closely with my clients and I take great pride in encapsulating the spirit of your personalities within my designs. I ensure that each order receives my undivided love, care and attention, it brings joy into my heart to see how happy a couple is with the final wedding theme that we've created together.
I have a degree in Design and a love of all things beautiful, I specialise in unmistakable, distinguished designs that will make your wedding unique.
Elinor Rose is committed to helping the environment, this means that every single sheet of paper we use is FSC approved, and 100% recycled where possible.
Stephanie x