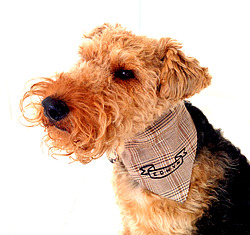 Welcome to Edwyn UK - handmade products for you, your dogs and your home; lovingly crafted in East London and overseen by Edwyn the Welsh terrier!
Our background is in furniture and interiors, and after the arrival of Welsh terrier Edwyn (named after my hero Edwyn Collins), the design world collided with dog world and the rest is history!
Our experience in design, growing up in a family of artists in the Lincolnshire countryside and our love of dogs all inspire and influence the way we work and how we put together our range. We love colour and texture and ways of combining materials to give a sense of personality as well as purpose.
We use a variety of techniques: block printing, appliqué and patchwork, and have an eye for finding the best fabrics. Combined, they help us create the distinctive and unique products you will find here.
We are continually adding to our range of dog breed prints as well developing new products to suit the needs of dogs and their owners. So watch this space for more Edwyn UK goodies to come!