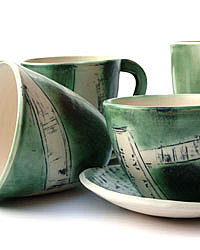 I create functional ceramics that are tactile and visually pleasing, using a mix of hand built, press mold and thrown techniques. Lines and text, often snippets of thoughts or poetry written during my travels, are inscribed into the surfaces and slips applied.
Embodying both utility and content, my work acts simultaneously as art pieces, whilst complementing the food that's eaten from them.
I have made ceramic work in Finland, France and Japan and now work from my studio in Wetwang, East Yorkshire.
As all pieces are made individually by hand you should be aware they are subject to slight variations in size and colour.