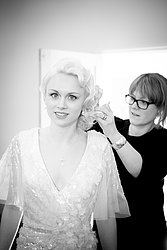 *PLEASE NOTE WE ARE CURRENTLY CLOSED FOR FAMILY AND BUSINESS RELOCATION*
Chez Bec is a small British company founded on a love of jewellery, weddings (we really do love them too much), and a desire to offer exceptional customer service and a personal touch. We make almost all of our designs by hand, to order, and can tweak and adjust to make them not only unique to you, but the perfect fit too. Despite this, we have dispatch times of 2-5 days for standard orders and can offer next day delivery too. Because we know that's how we like to shop ourselves.
Renowned across the wedding industry for our pearl wedding jewellery, hand crafted wedding hair flowers, and bridal pins and hair combs, our collections of wedding accessories feature the most beautiful freshwater pearls and Swarovski crystals and all of our jewellery is made using traditional wire wrapping methods in our studios in the South East of England. We personally select only the finest pearls, crystals and other materials to use in our jewellery which gives each piece an exquisite finish. Our founder, Bec is proud to have her name on every one of the hand crafted gift boxes that our designs are beautifully packaged in, and as the designer maker am proud to design and make jewellery for weddings across the world. I started working for Chez Bec right at the beginning, and have been running the business day to day since 2012 when I became joint owner too. It was that or have another baby, and I have my hands quite full enough with two daughters (who I suspect think it is normal to have a collection of vintage inspired headbands readily available for their dressing up).
By keeping our making in house rather than mass-producing, we get to select by hand which crystals we use, we can alter designs to suit you (whatever length you require, please just ask). Over the years Chez Bec has been very proud to win a whole host of Wedding Industry awards including the highly coveted Wedding Ideas Awards 2010, 2011 & 2012 for Best Bridal Accessories and The Sheerluxe Awards 2011 for Wedding Jewellery. Our jewellery collections feature an abundance of freshwater pearls and Swarovski crystals. Though it's perfect for weddings, it makes a great gift too... and we've also got a wonderful Rose Gold range for 2016.