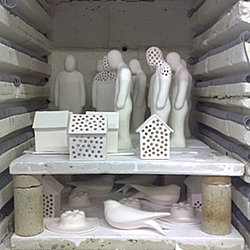 Cetus presents stunning contemporary works of art which will look fabulous in any home. Anyone who loves beautiful ceramics and art, who values good quality hand craftsmanship and appreciates the individual and unique will love what we have to offer.
Delicately slip-cast porcelain, exquisite printed ceramic and distinctive ceramic art works all form part of this extensive and diverse collection. This work is hand-made by Pamela and is inspired by the political, social and environmental concerns of the artist.
Collections from affiliate artists working with a variety of media and styles will also be exhibited and available for purchase. Both collaboration projects and independent work will be a feature of this initiative and a number of talented artists will be introduced to you.