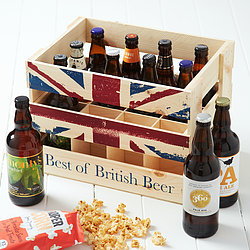 Here at Best of British Beer we believe in quality. We have an unapologetic and uncompromising attitude when it comes to the standard we expect from our suppliers, we demand more.
Cheap, mass produced beers are no longer enough. Our customers desire only the best products, and we take great efforts to provide them. After all, with so many great British beers available, why settle for less?
Britain has a long, fruitful relationship with beer. The beer made here, in our very own Blighty, is soaked in a rich culture of excellence. Our breweries have been developing and perfecting recipes for hundreds of years. In fact, beer brewing and Britain is a winning combination as extraordinary as the fish and chips our glorious nation so adores.
Only the most exceptional breweries make it into our elite list of suppliers. From there, all of our cases are hand curated by our knowledgeable beer experts to ensure their quality.
If you share our passion for supporting proper breweries here at home and the outstanding beers they continue to produce, then take a look at our range. We promise you won't be disappointed.