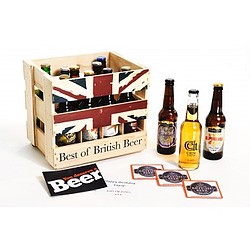 Best of British Beer has been created to champion the heroes of one of Britain's best loved industries - brewing. We scour the land looking for the finest microbreweries and the best award winning beers and deliver them direct to you in fabulous gift selections.
The collections have been borne out of a desire to drink better beer and promote the independent breweries producing beer in small quantities that you may not otherwise come across.
We select our fine ales from visiting festivals and breweries and finding out how the beer is produced. Then, we let our independent tasting panel assess each brew to see if it should be included in our range.
Whilst we have lots of different styles and types of beers, one thing is certain. With 100% of our brewing partners recognised award winners, you can expect excellent quality and a fine taste.
Please note all our 12 packs are delivered in a branded box. If you would prefer a plain box, just ask