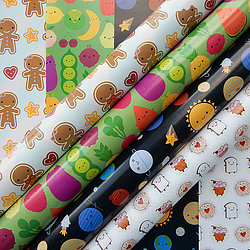 Asking For Trouble is a range of cute illustrated stationery, accessories and gifts featuring kawaii characters designed by Marceline Smith.
Trained as a printmaker and inspired by my visits to Japan, I create kawaii (cute) characters and patterns for stationery, fabric and gifts. My characters start as doodles in my sketchbook -almost anything can become adorably cute when a happy face is added but I especially love drawing food, space and nature.
Using my characters and repeat patterns, I design a cute and colourful collection of handmade and printed products including cards, notepads, badge sets, bags, gift wrap and brooches. I love to find cute ways to add a little fun and happiness to your day whether you're celebrating a special occasion or just going to the supermarket. Most of all, my aim is to make you smile!
ABOUT MARCELINE
I've been running my own business for nearly ten years and love spending my days working on my cute creations in my home studio on the west coast of Scotland. I oversee all aspects of production, from creating the designs, choosing suitable UK & EU printers and adding the perfect finishing touches like matching envelopes and super cute gift packaging.