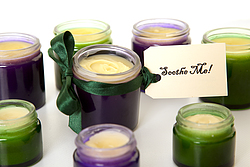 Hello and welcome to our store. We are a small company making natural skincare products using ingredients that are chemical free and kind to your skin.
During the last five years I have qualified and worked as an Aromatherapist, Beautician and Holistic Therapist, this has led me in to skincare and inspired me to create products that are completely natural, mainly due to the fact that most of the people that I have worked with have had skin conditions, allergies and medical conditions where they couldn't use products that are full of chemicals.
We make all of our products from scratch and carefully source our ingredients. We are cruelty free, we only test on willing humans and do not use any animal products (except for beeswax).
Our products are unique as they are in lovely coloured glass bottles and jars with beautiful ribbons and labels; great for pampering yourself or perfect as a gift. We have also tried to come up with a few unusual ideas for gifts, as it can be difficult sometimes to find something that is suitable for any occasion.