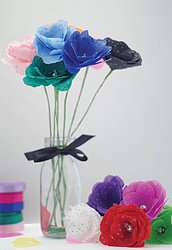 Colour Parade is a shop full of gifts - all hand made and dispatched by myself Amber Marie. I have just rebranded and want to say thank you to my loyal customers. The feedback I have had is amazing - over 200 positive reviews.
Creativity is my passion and I believe that colour enriches peoples lives. I have enjoyed making cards and gifts for friends and family since I was a child. Many are still in use or kept for the memories they hold. Sending a unique handmade gift is very rewarding and receiving one can be a special and surprising experience. My love for colour, print and pattern led me to train in printed textiles and I worked in this field in London and New York. Inspired by new technology I diverted to graphic design. I also worked as a jewellery designer, this is where my passion for making products really started to evolve. I combined printing methods and a variety of media to create my own diverse range of unique and eye catching product ranges.
Driven by a mindful of ideas and a desire to develop my work creatively and commercially I set up my own business "Amber Marie" in 2005 and began to sell on notonthehighstreet.com in 2007. My work comes from the heart and I hope that my brand will continue to evolve in colourful ways as I strive to delight my customers with exciting, Imaginative and new handmade products.