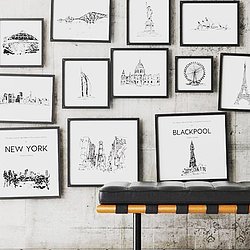 Welcome to 2by2 Creative at notonthehighstreet.com
2by2 Creative is a delightful design and illustration studio located in Hampshire. Described by Vogue magazine as "The ultimate in stylish stationery" and by Greetings Today as "A highlight of the current market". Founded by graphic designer Natalie O'Donovan Ryan in 2002, we're currently enjoying our 15th year.
We combine colour, illustration with graphic design to bring an exciting portfolio of wonderfully high quality and enchanting work, including beautiful gifts, guest books, photo albums, prints, illustrated skyline illustrations, venue portraits and much more. Each piece is created with care and attention, just for you.
Last orders for Pre-Christmas delivery on Framed illustrations is Monday 5th December (for delivery by 23rd December) and on unframed illustrations, it's Monday 12th December (for delivery by 23rd December).