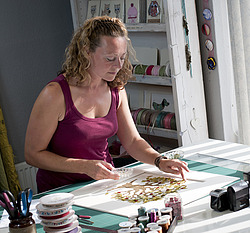 Hello and welcome!
I am a designer maker who works from a studio in Bristol. I'm a mixed-media artist - combining stitch, card, watercolour and textiles to create original, quirky pictures.
I draw with a sewing machine - it's called free hand machine embroidery, but there's nothing fancy, just my inherited 40 year old sewing machine with the feed dropped and an embroidery foot!
I make children's room signs, birth, christening, wedding gifts and personalised notebooks. All products are made to order and are beautifully personalised by stitching into card and material - freehand - like joined-up-stitch writing!
Each Zoe Gibbons picture is available for a limited period only - I regularly change fabrics and am always on the lookout for new buttons and other add ons. I welcome new ideas - often the best inspirations have come from customer requests!