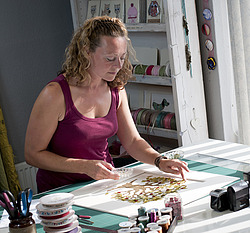 Hello and welcome!
I am a mixed media artist - creating designs on my vintage sewing machine - which are then translated into laser cut or combined with watercolour and textiles to create original, quirky pictures, cards, stationery & homewares.
Freehand embroidery gives the designs an organic fluidity. Items are handmade to order and beautifully personalised using details provided by the customer.
A lot of my inspiration comes from the natural environment - trees, wildlife, paper & texture please me. I love going out and about on my bike collecting ideas and sketching.
Each Zoe Gibbons item is available for a limited period only - I regularly change fabrics and am always on the lookout for new buttons and other add ons.
I welcome new ideas - often the best inspirations have come from customer requests!