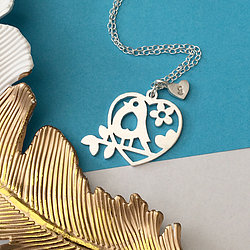 Zelda Wong's silver jewellery is inspired by a variety of sources both organic and contemporary.
Zelda started to make delicate silver flower jewellery during her degree in Metalwork & Jewellery at Sheffield Hallam University. After working with numerous Designer/makers, in 2004 she set up her jewellery design business.
The early work were all inspired by botanical form, as Zelda had fallen in love with the English countryside and gardens. In the Summer everything is so lively and colourful, but sadly the English Summer is short, her Flowers and Botanical collections capture the beauty of flowers and plants, so they become everlasting.
As her business progressed, she designed a new range of personalised jewellery, that is both pretty and elegant. They are also meaningful to the wearer, as customers can interact with the jewellery by choosing any quantity and combination of letters. The jewellery incorporate a name/ initials of their loved one or a meaningful word, which make the piece of jewellery totally unique, and they are affordable, too.
As a small business, she handmade her jewellery at her workshop in the West Midlands, and purchases her silver from Birmingham Jewellery Quarter.
Awards:
2009 - Winner Design Innovation Award
2008 - Shortlisted Gift Of The Year. Second Place in jewellery section, Scotland Trade Show Spring
2007 - Best use of shell scheme stand under 6m, International Jewellery London
2006 - Art Council Grant
2004 - 2005 - Test Marketing Grant, Prince's Trust. Business Grant, UK Steel Enterprise and Prince's Trust
2000 - A Commendation in the Pewter Live Design Completion