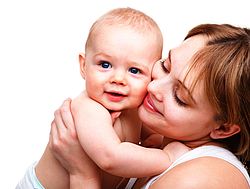 Nurture Mummy, Baby & Daddy is a natural product collection especially designed for modern mums. It is 100% free from animal testing and offers wonderful, gentle products for Mum, Baby and even Dad.
For pregnancy and postnatal we have serums to help prevent stretch marks, bath products to help with relaxation, creams to help general aches and pains, lotions to help prevent swollen legs and feet and massage oils for labour. For postnatal, we have Rest and Recover Bath, to uplift and refresh, lotion to help tighten and smooth stretched skin and much more.
Nurture Baby Care has everything from nappy cream to scalp cream, including baby bath, skin creams and body lotions.
For Daddies we have lovely "manly" products for him to enjoy from head to toe!
When buying for others we have beautiful gift sets to choose from - the ideal gift.