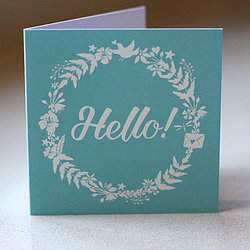 Yummycard....so much more than just a card....a delicious slice of homemade cake and a card posted first-class anywhere in the UK to anyone of your choice.
Beautifully packaged with co-ordinated ribbon, easy to order and a delight to recieve...perfect for birthdays, anniversaries or just to say 'Hello'.
Yummycards are designed to fit through a standard letterbox, so no need for the recipient to be home when the post arrives.
Yummycard was started in 2009 by Karen Murdoch. Karen has a degree in design and a background in making wedding cakes. When her daughter Polly told her about people sending each other virtual cakes online, it struck her how much nicer it would be to receive a real cake!
Yummycard has grown and evolved and now is a partnership between Karen Murdoch and Yvonne Trebino. Yvonne has a degree in Aeronautical Engineering(!) and has run a succesful cake business of her own. Of course our handmade cakes are still our main focus and are baked by us in our home kitchens with attention to detail, and most importantly great ingredients....x