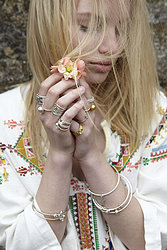 Born and raised in Japan Yume turned her hand to a number of artistic pursuits, including fashion and textiles, before discovering her love of designing jewellery. Yume's pieces combine a worn and torn edginess with a hint of femininity in her line of jewellery. She lovingly creates her simple, delicate and charming style of jewellery using ethical silver sourced within the UK. Her designs are largely inspired by nature; flowers, butterflies and dragonflies. She also creates unique and contemporary designs which are bold and eye catching. She uses techniques such as plannishing (hammered effect), oxydising (blackened) silver and hand gilding 24ct gold leaf onto her silver jewellery to make a unique and individual style. She loves working intuitively helping the material and design converge together in a organic and stylised form.
Every design is individually hand crafted and you can be sure to be wearing a unique piece every time.
Bespoke commissions are also welcome and Yume is happy to discuss any ideas for one off pieces.