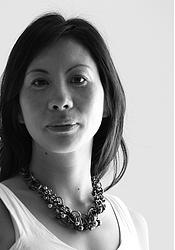 Yen Duong is a London based designer who creates contemporary jewellery.
Articulating elements form the basis of her work and movement and playful tactility have become the defining aspects of Yen Jewellery. Yen's original designs are driven by an enjoyment for pushing the boundaries of innovation.
All pieces are handmade from her Bloomsbury studio and meticulous attention to detail is paid regarding the construction and assemblage of each component. Yen also offers a bespoke commission service where any product can be made to your specification or an entirely new piece can be designed from scratch.
The Collection offers pieces differing in price range and complexity making it accessible to everyone and all occasions.
Previous stockists include Selfridges, Liberty of London and Harvey Nichols. Exhibitions include The Goldsmiths' Fair, Sotheby's and The Crafts Council.