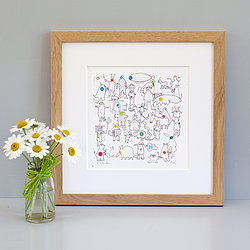 Welcome to the World of Moose.
Moose once worked as an architect. Karen was a buyer. We threw it all in for a creative life by the sea.
As well as selling our original work in galleries internationally, we have a range of prints available to buy on NOTHS. Our fantastically successful Fill-me-in posters were developed from an art project and are now used to celebrate weddings, birthdays, any excuse for a party really.
We have done many other things along the way, we publish cartoons in the Literary Review and provate Eye, we've decorated the interior of a high end waxing salon in Mexico City, we've drawns Stephen Fry's fantastical gadgets for Channel Four and worked with the Tate gallery on their Lowry exhibition.
Moose's work is known for its humour and love of language. We hope you find it stimulating.
Karen & Moose x