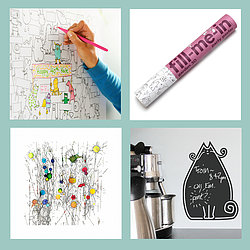 Welcome to the World of Moose.
Moose once worked as an architect. Karen was a successful buyer. We threw it all in for a life by the sea. Now Moose sits and draws and stares out the window, while Karen runs the business. She occasionally lets Moose out of his cage so she can sweep up the droppings from his peculiar mind. These are the raw materials of our work. We hope you find them stimulating.
This year as well as creating finely detailed, playful images that are exhibited and sold in galleries internationally, we have also published cartoons in the Literary Review, and decorated the interior of a high end beauty salon in Mexico City.
Moose's work is known for his humour and love of language.