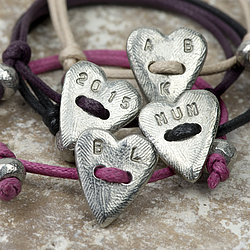 WORKSHOP ONE80 design and create simple contemporary jewellery that is truly special both in style and in the way each piece is made.
Our handmade elements are individually produced from reclaimed materials, using traditional methods by small groups of artisans around the world. These elements are then transformed in our UK workshop to create jewellery that clearly combines simple contemporary design and artsan skill.
We are very pleased to say we offer the option of personalising many of our designs to make them even more special.
The natural characteristics of many of the reclaimed materials we use means our jewellery is incredibly easy to wear. It has a relaxed style, but every bead and charm is individual hand crafted giving each piece its own creative story.
WORKSHOP one80 only works with groups with the highest work standards and fair trade credentials.