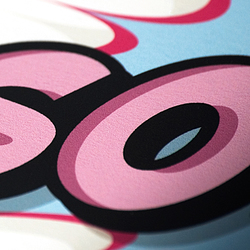 Welcome to Wordplay Design. I literally love playing with words in their basic outline shape and form.
I'm a designer with over fifteen years in the creative industry and am now based in rural Suffolk. I use my wealth of commercial experience to create original and perfectly produced fine art prints, greetings cards and mugs.
It all began with my Comic Book Pow! graphic which was designed as a unique gift for a family friend. We all love to receive a very personal gift, and kids in particular love to see their name in print... actually, don't we all? The superb reaction inspired me to create a personalised range of prints. This soon expanded into non personalised prints, greetings cards, mugs and tea towels too. Whatever next!
As well as words and beautiful type, I also love the nuances of colour, texture and detail. Ideas can spring from obscure things I've seen, odd colour combinations that have caught my eye or even just throwaway comments. I particularly like nonsense and flippancy, my autocorrect range of cards and mugs reflects this perfectly.
I hope you like my shop as much as I love designing things to put in it.
Rebecca.
Copyright © Wordplay Design. All Rights Reserved.