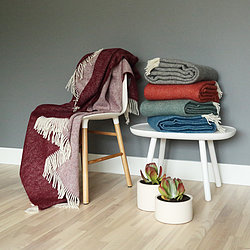 WoolMe is a family-owned brand of wool textile products – throws, blankets, scarves. It started as a category in our linen textile and clothing shop LinenMe and then developed to a separate brand. Many years of experience with home textile resulted in the knowledge of how the texture, color and softness of a fabric influence the perception of interior and create the overall mood in a room. We want to share our ideas how to transform our intimate space into even more enjoyable place.
Above all WoolMe stands for handpicked designs and exceptional quality. We put much effort to select the finest, most elegant and interesting designs - the ones that we would use in our own home. We work with small, mostly family-run businesses like ours, producing wool items, and select only the best quality products and designs.
Our mission is to foster people to use woolen products in their homes because they have so many benefits and are gorgeous as well!