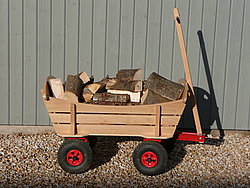 These pull along carts are the norm for families at home and when I came to live here in the UK I was quite puzzled seeing families struggling on beaches and woodland walks with toddlers, dogs, buggies and picnics - obviously they need a Woodie Wagon.
Children love them; they are great for getting out and about with the paraphernalia that family life requires: nappies, juice, toys, a change of clothes! At the end of the outing they dismantle easily and fit neatly in the back of the car. They are also great for the garden and make beautiful, elegant and highly manoeuvrable wheelbarrows.
For modern day living I have changed the traditional cart to one that is still true to its origins but can easily be transported in the boot of a car or stored. By removing the sides and the handle the cart does not take up much more space than any modern day pram.
I have sourced them from highly skilled European craftsmen and the carts are made from sustainable wood and finished in environmentally friendly products thus doing our bit for the world we live in.