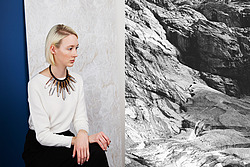 Wolf & Moon is a hand-crafted jewellery brand by British artist and designer Hannah Davis. Hannah's contemporary jewellery is unique and affordable, taking inspiration from nature, travels and modern materials.
All our pieces come in multiple colour-ways.
Everything is lovingly handmade in Hannah's Hackney based studio with help from her small team of makers.
All the jewellery here at Wolf & Moon is made in house. We try and source the majority of our materials from Britain and Europe. It is important to us support other independent businesses, so a lot of time and care is undertaken when looking for new material stockists. The wood we use is FSC approved, and all off cuts (as well as other waste products) are recycled.
Our latest collection, Fjordland, was inspired by Hannah's trip through the magnificent fjords of Western Norway. Hannah travelled past lakes, over mountain passes and hiked into the clouds. The collection uses graphic motifs taken from these landscapes: plateaus, valleys, ripples, waterfalls - with a colour palette of misty blues, mint and earthy wood.