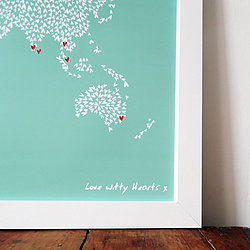 My name is Mitty Ramachandran and I am the designer behind Witty Hearts. I invite you into my heart, which through my work I wear very much on my sleeve.
I create quirky cards, prints and other hearty items inspired by love, life and laughing, lots. Coming up with new ideas is my favourite part, so I'm always adding new designs.
Many of my designs can be personalised to making them even more unique gifts for all sorts of occasions.
My creative ambition is to brighten up your day a little more.
Thanks so much for reading this and I hope you like what you see!