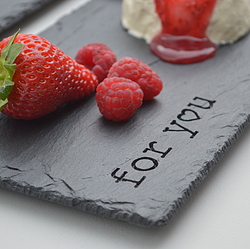 We transform slate and wood into beautiful engraved signs, serving boards, chalkboards and gifts for the home and garden. We use natural ethically sourced materials as well as redundant offcuts, breathing life into them and creating beautiful signs and gifts that people love to give and receive.
I started making my personalised signs in 2011, almost by accident, and I love it. It all started when our new engraving machine arrived. Impatient to see it running, I started engraving on any scrap I could find in the workshop. I then went outside and collected some old bits of slate. Not long afterwards, the first home and garden signs were created! Four years on, hubby Chris and I now work in wood as well as slate and still design and make every product ourselves in our own workshop in Crich, Derbyshire.
And still today, as we make each piece, I love to think about its journey, the stories it could tell of the past, and the stories we are creating in the words we engrave for our wonderful customers.
I hope you'll love giving and receiving our engraved signs and gifts as much as we love making them!
Cathy Rawsthorne