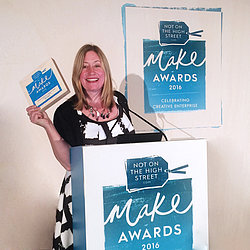 Welcome to Wink Design, where our personalised prints and gifts are designed to make you smile!
Michelle Lancaster, multi award winning designer, director and Boss of Everything, founded Wink Design as a way to celebrate her newly earned design degree in 2009. She started creating prints and illustrations that meant something to her – tea, friends, family, and designs that were a bit different.
Since then, our range at Wink Design has expanded. We now offer a wide range of personalised prints, most of which you can tweak with your words, colours, and even layout, free of charge. We also offer greeting cards, and we're constantly adding new products, such as our witty drinks coasters, to the store. We love to share the passion, enthusiasm and downright geekiness you have in your lives, whether it's Mini Coopers, a huge amount of tea or coffee, song lyrics, or the people who mean the most to you – we've got something you'll treasure forever.
Many of our products are specially created to be given as gifts for birthdays, weddings, anniversaries, at Christmas, and Mother's Day and Father's Day. So, if you're looking for something a bit different, a bit fun, and totally personal as a gift or for yourself, take a look at our products! We'd love to hear from you.
Artwork and designs are Copyright © Wink Design Ltd. All rights reserved
WINNER: Partner of the Year Community Spirit Award - 2016 Make Awards
WINNER: notonthehighstreet.com 2015 Make Awards
Shortlisted for the notonthehighstreet.com 2014 Make Awards